salt, 2014 Sochi Winter Olympics:
A senior adviser to the Sochi Olympics convened an emergency meeting late last week with top winter sports officials at the Park Inn hotel in the Alpine village here.

A situation had grown dire. It was not security, attendance or doping that was the problem. It was salt.

Four months earlier, Hans Pieren, one of the world's leading experts on salt and snow, had told Sochi officials that the Alpine skiing events required more than 19 tons of salt, a crucial ingredient for melting soft snow so it can refreeze into a hard surface.

But the organizers did not listen, to their great regret. Now, with 10 days of competition remaining, many of the Games' signature events were in jeopardy of being compromised, and even canceled.

Tim Gayda, a Canadian consultant who is a senior adviser to the Sochi organizers, called the meeting Thursday night, according to some people who were there. He told the group that the strongest kind of salt, the large-grain variety, was simply not available in Russia. Mr. Gayda asked the group an urgent question: Does anyone know how we can get 25 tons of salt — tonight?

via A Mad Dash for Salt Rescues Olympic Slopes – NYTimes.com.
Rachel Ries, Urban-Rural Split,  Ghost of a Gardener, NPR:  Really good NPR segment from Sunday.
Sometimes you need to get away from the thing you love. NPR's Rachel Martin talks to singer Rachel Ries about her new album, Ghost of a Gardener, which she produced after taking a couple years off from music.

via Rachel Ries' Album Reflects Her Urban-Rural Split : NPR.
Humans of New York,  Susie's Senior Dogs:  Loved this …

I've got to tell you guys about all the amazing things happening over at Susie's Senior Dogs. So we started this page on a whim last week, for the purpose of placing old dogs in new homes. (And by we, I mean 95% my girlfriend, and 5% me– let's be honest.) Nearly 100,000 people "liked" the page in 24 hours.

We've posted about 11 dogs so far, and 6 of them have been adopted– from all over the country. It's just been an incredible success. Almost all of these dogs were ten years or older, and many of them had been in shelters for a long time. Check out these pictures of the pups in their new homes. Remember, these guys were sleeping in cages just last week.

From Left to Right: Nina (13), Fancy (12), and Max (10).
A Wrinkle in Time, favorites:  A Wrinkle in Time was a favorite book of my early reading life. Truly started me on my love of reading path.
"It was a dark and stormy night.
In her attic bedroom Margaret Murry, wrapped in an old patchwork quilt, sat on the foot of her bed and watched the trees tossing in the frenzied lashing of the wind. Behind the trees clouds scudded frantically across the sky. Every few moments the moon ripped through them, creating wraithlike shadows that raced along the ground."
Happy 52nd anniversary to the beloved Mighty Girl classic A Wrinkle in Time! Madeleine L'Engle's 1962 Newbery Medal-winning fantasy novel about the adventures in space and time of Meg Murray, her brother Charles Wallace and friend Calvin has been capturing the imaginations of young readers for generations. In recent years, the novel has also appeared in new forms including a wonderful graphic novel adaptation and on a t-shirt for teen and adult fans.

To learn more about the original novel, recommended for ages 9 and up, visit http://www.amightygirl.com/a-wrinkle-in-time
Winnie-the-Pooh, favorites:  And another favorite …
"And then, all of a sudden, Winnie-the-Pooh stopped again, and licked the tip of his nose in a cooling manner, for he was feeling more hot and anxious than ever in his life before."

On February 13, 1924, Punch magazine published a short poem titled "Teddy Bear" by Alan Alexander Milne, one of the magazine's editors and a frequent contributor. The poem, inspired by the stuffed teddy bear so dearly beloved by Milne's four-year-old son Christopher Robin, was included in Milne's collection of children's verses, When We Were Very Young, illustrated by Punch staff cartoonist E. H. Shepard and published later that year. But the bear's very first appearance in Punch was the birth of Winnie-the-Pooh, which Milne released two years later and which went on to become one of the most timeless children's books ever written.

In the summer of 1929, the Dominion Gramophone Company set out to capture prominent British authors reading from their work. In this rare recording, Milne reads the third chapter of his classic, "In Which Pooh and Piglet Go Hunting and Nearly Catch a Woozle," made all the more delightful by his enchantingly melodic voice — please enjoy:

https://soundcloud.com/brainpicker/a-a-milne-reads-from-winnie-the-pooh

via Happy Birthday, Winnie-the-Pooh: A Rare 1929 Recording of A.A. Milne Reading from His Beloved Book | Brain Pickings.
 Buckhead's  Beltline,  Path400, Parks & Recreation, Curbed Atlanta, multi-use trail:  Another multi-use trail!
Great news for multi-use trail zealots: The first phase of PATH400, a Beltlineian trail that will wend for 5.2 miles through Buckhead parallel to Ga. 400, is set to break ground Feb. 17. Officials are hoping the path will lend Buckhead the same sense of interconnectedness the Beltline's Eastside Trail has provided neighborhoods east of downtown and Midtown. "PATH400 will be a tremendous asset," Jim Durrett, executive director of Buckhead CID, said in a press release. "Our community will enjoy new pedestrian access to schools and the local business district, opportunities for outdoor recreation and a greater sense of connectedness. It's a wise investment for Buckhead." PATH400's first phase will be a half-mile stretch from Lenox Road at Tower Place up to Old Ivy Road. Extensions could soon follow.

via Buckhead's Answer To Beltline Will Break Ground This Month – Parks & Recreation – Curbed Atlanta.
Worth your time …, Molly Wilmer Barker:  Loved this post!
With the recent drug overdose of Philip Seymour, comes up (again) the age-old conversation about whether addition and abuse of drugs and alcohol is the result of a disease or just a really bad habit to overcome…I've got a thought that is somewhat unrelated to either, but perhaps worth considering.

Addicts and Alcoholics, with a few years of good, grounded sobriety under their belt, are some of the absolute coolest people on the planet. They have an outlook that carries with it a good dose of humility. Many have been to the depths of their own darkest despair and, through a variety of ways, climbed out, up, through or over, whatever beliefs, obstacles, brain chemistry that bound them to a behavior that dimmed the bold, light-filled people they really are.

The addicts and alcoholics I know…who live daily expressing the humility and gratitude their recovery brings…are also some of the most creative souls on the planet.

One in four people are affected by addiction…either in their own lives or in the lives of their loved ones, co-workers, acquaintances.

Today, rather than debate the best route to recovery/treatment, I will hold those still suffering…in this space…a gentle reminder that even in the darkest moments, there is hope.

via Molly Wilmer Barker.
 "Le Tricorne", Picasso: Tapestry travesty.
Most people agree that the fate of "Le Tricorne" rests squarely in Mr. Rosen's hands. The interior of the Four Seasons was given landmark designation in 1989, canonizing the achievements of Mies van der Rohe, the architect who designed the 38-story skyscraper, and Philip Johnson, who designed the restaurant, the costliest ever constructed when it opened in 1959. The Picasso, however, was excluded from the designation because, as the New York City Landmarks Preservation Commission explained in a statement, it was owned separately and could be moved.

via At Four Seasons, Picasso Tapestry Hangs on the Edge of Eviction – NYTimes.com.
Stephen Curry,  Bay Area Warriors, Davidson College, CharlotteObserver.com:
Marsten said it's telling that every Warriors fan seems to know Curry went to Davidson, the small, academically elite college north of Charlotte.

"He's very proud of his roots, very proud of Davidson. Warriors fans understand about that," Marsten said. "If you asked them where (Warriors forward) David Lee played, I don't know that they'd know. And he won two national championships at Florida."

This works because it's not an "image." It's who Dell and Sonya Curry raised their three kids to be.

via Stephen Curry loves the Bay Area and the Bay Area sure loves him back | CharlotteObserver.com.
Europe's 12 most impressive metro stations, lists, CNN.com:  Very fun!
But as the following stations show, more than 150 years after the London Underground opened, there\'s a lot more to a great subway stop than getting from A to B.
Passing on body hatred, Essential Mums:  A good lesson …
But all of that changed when, one night, we were dressed up for a party and you said to me, "Look at you, so thin, beautiful and lovely. And look at me, fat, ugly and horrible."

At first I didn't understand what you meant.

"You're not fat," I said earnestly and innocently, and you replied, "Yes I am, darling. I've always been fat; even as a child."

In the days that followed I had some painful revelations that have shaped my whole life. I learned that:

1. You must be fat because mothers don't lie.

2. Fat is ugly and horrible.

3. When I grow up I'll look like you and therefore I will be fat, ugly and horrible too.

Years later, I looked back on this conversation and the hundreds that followed and cursed you for feeling so unattractive, insecure and unworthy. Because, as my first and most influential role model, you taught me to believe the same thing about myself.
Paris,  Metro Makeovers for the Abandoned Stations of Paris,  Messy Nessy Chic Messy Nessy Chic:  Very cool!
Anyone who wants to make a swimming pool out of an abandoned metro station neglected for 75 years, has definitely got my attention. The ghosts of the Parisian underground could soon be resurrected if city voters play their cards right in the upcoming mayoral elections. Promising candidate, Nathalie Koziuscot-Morizet, who would become the first female to ever hold the post in the capital, has released the first sketches of her plans to reclaim the city of light's abandoned stations.

via Metro Makeovers for the Abandoned Stations of Paris | Messy Nessy Chic Messy Nessy
GI Joe, Yahoo News, kith/kin: I always liked to play with my brother's dolls … and now they are 50. Makes me feel old.
The birthday of what's called the world's first action figure is being celebrated this month by collectors and the toy maker that introduced it just before the nation plunged into the quagmire that would become the Vietnam War — a storm it seems to have weathered pretty well.

Since Hasbro brought it to the world's attention at the annual toy fair in New York City in early 1964, G.I. Joe has undergone many changes, some the result of shifts in public sentiment for military-themed toys, others dictated by the marketplace.

via GI Joe, the world's first action figure, turns 50 – Yahoo News.
Nathan Edmondson, alphacomics, @nathanedmondson: I love being able to claim a connection to a graphic artist writer … Second cousin once removed.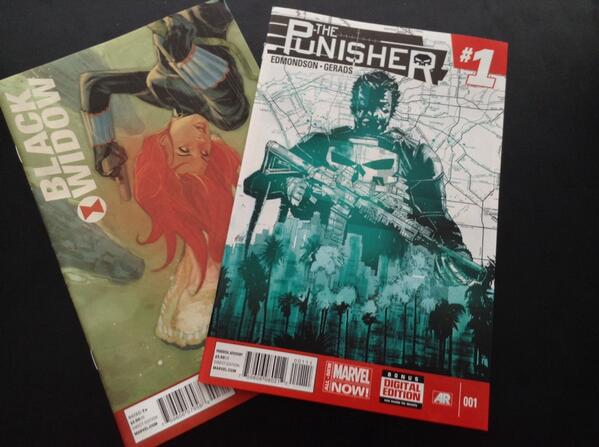 Written by @nathanedmondson both Black Widow and Punisher are new tomorrow. pic.twitter.com/OZ2zsKvYEI
Future of Transportation, The Atlantic Cities:  world without car ownership …
If connected vehicle technology becomes mandatory in American cars, as the Department of Transportation recently suggested it might, the most obvious benefit would be safety. Cars that can tell other cars their speed and position are far less likely to crash. But as David Zax pointed out at Cities earlier this week, that's just the beginning. Combine connected vehicle technology with intelligent infrastructure and driverless cars and you get a commute that's both quicker and hands-free. You could even rely on autonomous taxis to chauffeur you from home to work.

In that sense, a world without car crashes may just be the first step to a world without car-ownership.

via Imagine: A World Where Nobody Owns Their Own Car – Eric Jaffe – The Atlantic Cities.
google doodles, Harriet Tubman: 
Musée Nissim de Camondo,  Letter From France | How to Visit Some of Paris's Finest Museums but Skip the Crowds: Donna Morris took us to Musée Nissim de Camondo … opened up a whole world of interesting historical research!
Richard Harbus for The New York Times

The Musée Nissim de Camondo boasts one of the great collections of 18th-century decorative arts.

It also holds a tragic story. When Camondo died in 1935, he left his mansion and collections to France's Musée des Arts Décoratifs. His only condition was that the house be turned into a museum and named after his son, Nissim, who died as a combat pilot for France in World War I.

The family felt protected when the Nazis occupied France. A marble plaque at the entrance to the house states otherwise. It announces that Camondo's daughter, son-in-law and two grandchildren, his last descendants, were deported by the Germans between 1943 and 1944. They died at Auschwitz.

The French government kept its word, turning the house into a museum and naming it after Camondo's son.

via Letter From France | How to Visit Some of Paris's Finest Museums but Skip the Crowds.
Martin Luther, history:  Today is the anniversary of the death of Martin Luther.  He was one interesting guy.  Among other things, he introduced congregational singing of hymns …
Martin Luther was born November 10, 1483. His intellectual abilities were evident early, and his father planned a career for him in law. Luther's real interest lay elsewhere, however, and in 1505 he entered the local Augustinian monastery. He was ordained a priest April 3, 1507.

In October 1512 Luther received his doctorate in theology, and shortly afterward he was installed as a professor of biblical studies at the University of Wittenberg. His lectures on the Bible were popular, and within a few years he made the university a center for biblical humanism. As a result of his theological and biblical studies he called into question the practice of selling indulgences. On the eve of All Saints' Day, October 31, 1517, he posted on the door of the castle church in Wittenberg the notice of an academic debate on indulgences, listing 95 theses for discussion. As the effects of the theses became evident, the Pope called upon the Augustinian order to discipline their member. After a series of meetings, political maneuvers, and attempts at reconciliation, Luther, at a meeting with the papal legate in 1518, refused to recant.

Luther was excommunicated on January 3, 1521. The Emperor Charles V summoned him to the meeting of the Imperial Diet at Worms. There Luther resisted all efforts to make him recant, insisting that he had to be proved in error on the basis of Scripture. The Diet passed an edict calling for the arrest of Luther. Luther's own prince, the Elector Frederick of Saxony, however, had him spirited away and placed for safekeeping in his castle, the Wartburg.

Here Luther translated the New Testament into German and began the translation of the Old Testament. He then turned his attention to the organization of worship and education. He introduced congregational singing of hymns, composing many himself, and issued model orders of services. He published his large and small catechisms for instruction in the faith. During the years from 1522 to his death, Luther wrote a prodigious quantity of books, letters, sermons and tracts. Luther died on February 18, 1546.

via February 18: Martin Luther, Theologian, 1546 | Standing Commission on Liturgy and Music.