Nora Ephron, tributes, cultural icons:  OK, It took me a minute to get what was going on … and then I really laughed.
Conceptual artist Rachel Perry Welty recreates Meg Ryan's soliloquy from Nora Ephron's When Harry Met Sally in a collage using letters cut from Ephron's obituary in The New York Times, in one of several visual tributes to cultural icons we lost in 2012.

via Explore – Conceptual artist Rachel Perry Welty recreates Meg….
Twitter,  AstroMarshburn, Davidson '82:  My favorite martian, umm,  astronaut, tweets from the ISS!  He also send back pictures.  You rock, Tom!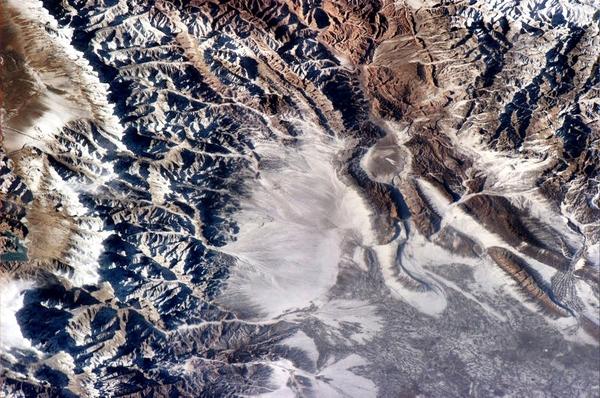 @AstroMarshburn

Where desert and mountains meet – we're over the edge of the Gobi.
body language, TED Talks: Good to know …
In her TEDTalk (above), social psychologist Amy Cuddy shares an easy way that anyone can change not only others' perceptions of them, but the way they feel about themselves — spending two minutes "power posing" with their arms or elbows out, their chin lifted and their posture expansive. Cuddy's research, done in collaboration with Dana Carney, has shown that adopting the body language associated with dominance for just 120 seconds is enough to create a 20 percent increase in testosterone and a 25 percent decrease in the stress hormone cortisol. In other words, adopting these postures makes a person feel more powerful.
word of the year,  The Economist: #hashtag … really???
Finally, the Word of the Year to beat all words of the year, the word that truly summed up 2012.  Are you ready?

#hashtag
Davidson,The Watson Fellowship, 2012-13 Watson Fellows:  I was looking over a friend's daughters' blog (sara bates | sara bates … watson adventures) when I wondered if any 2012 Davidson grads received Watsons … The answer is yes … and they are excerpted below.  But If you are interested all of the Watson Fellows are doing amazing things.
Audrey Gyurgyik, Davidson College

Body and Soul: A Holistic Approach to Actor Training

Tibet, Brazil, Serbia, Italy

I will explore the following questions: In what ways does the physical body serve as a vehicle to access emotion, free-flow of impulses, and the subtler soul? How do different cultures explore this notion? And how is this work then translated for or useful to actors- to those interested in effectively communicating the human condition to an audience? I will travel to Tibet, Brazil, Serbia and Italy to learn about different physical-spiritual practices and the ways in which certain theatre companies have incorporated them as an integral part of their creative processes.

via The Watson Fellowship: Our Fellows

…

Alexis Valauri-Orton, Davidson College

Thinking Outside the Lab: Discovering the Human Toll of Ocean Acidification

Norway, Hong Kong, New Zealand, Peru, Mauritius

Ocean acidification, a consequence of CO2 pollution, threatens reefs and fisheries worldwide. On my Watson, I will live with communities in five countries that are particularly vulnerable to acidification. I will learn how their livelihoods and cultures are dependent upon marine resources, discovering the human stake in this environmental crisis. Each narrative of acidification will be shaped by different dependencies, cultures, and crises, and together they will provide me with a global, human narrative that demands action.
resolutions, living life in the moment:
Saturday January 5, 2013

Living the Moment to the Fullest

Patience is a hard discipline. It is not just waiting until something happens over which we have no control: the arrival of the bus, the end of the rain, the return of a friend, the resolution of a conflict. Patience is not a waiting passivity until someone else does something. Patience asks us to live the moment to the fullest, to be completely present to the moment, to taste the here and now, to be where we are. When we are impatient we try to get away from where we are. We behave as if the real thing will happen tomorrow, later and somewhere else. Let's be patient and trust that the treasure we look for is hidden in the ground on which we stand.
iPad,  apps: Another best list … I already have most of these … but I thought Paper looked fun.
Below, we've got 13 of our absolute favorite apps for iPad and iPad Mini: The essentials, the best of the best. These aren't the only apps you need for your new Apple tablet, but they are certainly a good start. Let's get downloading.

Paper (FREE)

Apple's iPad App of the Year is a content-creation machine, allowing you to draw, take notes, sketch and color in between (or outside of) the lines. Worth a try for any creative types out there, or anyone who wants to use a new iPad or iPad Mini to replace a laptop.

via iPad Mini Apps: The 13 Best Apps That Any New iPad Or iPad Mini Owner Should Download Immediately.
X-Rays, technology,  Davidson College. Davidson College Archives, trivia:
The first X-ray taken at Davidson College by Eben Hardin, Pender Porter, and Osmond L. Barringer. [1896]
In January 1896, Dr. Henry Louis Smith, a physics professor at Davidson Colllege, read about Wilhelm Conrad Roentgen's discovery of x-rays in an associated press bulletin. He realized that Davidson College possessed the right equipment to repeat Roentgen's experiments. Dr. Smith told his physics class about Roentgen's discovery of x-rays, and Smith's planned experiments with them.

Shortly afterwards, three Davidson juniors, eager to test Smith's theories, snuck into his lab on the evening of January 12, 1896. Eben Hardin, Pender Porter, and Osmond L. Barringer collected various objects to photograph with the x-ray machine: a cadaver finger (taken from the North Carolina Medical College) stuck with two pins and wearing a ring (borrowed from Barringer's girlfriend); a rubber covered magnifying glass; a pill box containing two 22 cartridges, one pin, two rings, and six Strychnine pills (commonly used by students at that time to stay awake during finals); and an egg that been emptied and had a button placed inside.

via X-Rays | Davidson College Archives & Special Collections.
Audi, technology, robotic valet:  Robotic Valet Overlords!
Audi has built the robotic valet of the future, a car that parks itself. We got to play with it, and it's freaking amazing.

via We Welcome Our Robotic Valet Overlords | Autopia | Wired.com.
Americans, death age, statistics: Ouch!
Americans live sicker and die younger than people in other wealthy countries — and the gap is getting worse over time, a new report shows.

Men in the USA have shorter lives than men in 16 developed nations. American women also fall near the bottom of the list, living 5.2 fewer years than Japanese women, who live the longest.

Americans "have a long-standing pattern of poorer health that is strikingly consistent and pervasive" over a person's lifetime, says the report, from the Institute of Medicine and the National Research Council, independent, non-profit groups that advise the federal government on health.

"The tragedy is not that the United States is losing a contest with other countries," the report says, "but that Americans are dying and suffering from illness and injury at rates that are demonstrably unnecessary."
We the People, White House,  Death Star:  I had no idea that the We the People  site existed … enjoyed the tongue in cheek response.
Enemies of the Pentagon will not witness the power of a fully operational battle station anytime soon.

Last month an online petition to the White House site We the People that called for the construction of the Death Star from the "Star Wars" movies surpassed the 25,000 signature threshold required to initiate an official response.

Citing national security and the number of jobs the initiative would create, the petition gained 34,000 signatures.

On Friday Paul Shawcross of the Office of Management and Budget, showed he was up for satire and responded in kind, issuing a tongue-in-cheek address to the demand for a space station capable of obliterating entire planets.

via White House Declines Death Star Undertaking, Cites Budget Constraints – ABC News.
Paris, blogs:  Just liked this one.
Guide to Paris: Insight to the Famed City of Lights

At Aeon Tours, we strive to create walking tours of the famed City of Lights that showcase the many faces of Paris. From her hidden side streets to her iconic international attractions, you can be sure that we have a tour that caters to you. To learn more about us, visit us at AeonTours.com
youtube, video blogs, LOL:  i . 🙂
http://www.buzzfeed.com/donnad/the-best-fcking-cruise-ship-tour-youll-ever-take?sub=1956541_793702
Greg from Mediocre Films 2 went on a cruise to Hawaii with his family. As a vlogger, he decided to document his voyage.
Davidson Basketball:  Another great day ….
Mann hits 20 as Davidson men top Furman, 81-73

via Mann hits 20 as Davidson men top Furman, 81-73 | Sports.
Nordstrom Rack, Psycho Bunny, men's clothing:  I saw a polo with this weird logo at Nordstrom Rack.   Psycho Bunny …
Interesting brand logo??

devotionals, urban legends:  I am not sure what this is but I found it uplifting.
One day a farmer's donkey fell down into a well. The animal cried piteously for hours as the farmer tried to figure out what to do. Finally, he decided the animal was old, and the well needed to be covered up anyway; it just wasn't worth it to retrieve the donkey.

He invited all his neighbors to come over and help him. They all grabbed a shovel and began to shovel dirt into the well. At first, th

e donkey realized what was happening and cried horribly. Then, to everyone's amazement he quieted down.

A few shovel loads later, the farmer finally looked down the well. He was astonished at what he saw. With each shovel of dirt that hit his back, the donkey was doing something amazing. He would shake it off and take a step up.

As the farmer's neighbors continued to shovel dirt on top of the animal, he would shake it off and take a step up. Pretty soon, everyone was amazed as the donkey stepped up over the edge of the well and happily trotted off!

MORAL :

Life is going to shovel dirt on you, all kinds of dirt. The trick to getting out of the well is to shake it off and take a step up. Each of our troubles is a steppingstone. We can get out of the deepest wells just by not stopping, never giving up! Shake it off and take a step up.

Remember the five simple rules to be happy:

1. Free your heart from hatred – Forgive.

2. Free your mind from worries – Most never happens.

3. Live simply and appreciate what you have.

4. Give more.

5. Expect less from people but more from yourself.

You have two choices… smile and close this page,

or pass this along to someone else to share the lesson .